Sale price
$49.99
Regular price
$39.99
Unit price
per
SAVE -25%
Sold out
A "bobblehead" belongs on your desk, not your neck.
Product Description

 

Introducing the ultimate solution to uncomfortable travel: The Neck's Evolution S3. This revolutionary travel pillow features our newest globally patent-pending innovation: the comfiest, most secure, gravity defying chin-strap technology that allows for maximum head and neck support at all angles, while cleverly leaving a large opening at the front of the neck for heat to escape.  Your head falling forward while trying to sleep on a plane is now a thing of the past!  The Neck's Evolution S3 also includes our revolutionary raised side supports and seat strap system that keeps your head in place as you drift off to sleep – and stay that way - on flights and on all high-back seats. 

 

INTRODUCING OUR NEWLY REIMAGINED PILLOW: TNE- THE NECK'S EVOLUTION. From the makers of CNN's Top Travel Pillow three years running; our newest, most, innovative travel pillow is the perfect neck pillow to comfortably rest on a long flight, long car ride, trains and anything in between. Top off your travel kit with this premium support pillow to help avoid neck kinks, back strain, or even embarrassing public snoring.

CHINSTRAP TECHNOLOGY: A fully customizable fit to prevent "bobblehead" movement, keeps your mouth closed during travel, and ensures your head is secured. The open neck design allows for not only a customized fit, but also optimal heat flow that accounts for personal body temperature regulation and constant airflow.

EXCLUSIVE S3 SEAT STRAPS - Attach our neck pillow for travel to ANY chair, including airplane seats or office chairs to prevent slouching or falling forward, keeping head and spine in perfect alignment for ultimate comfort and support.

ERGONOMIC MEMORY FOAM DESIGN: The Neck's Evolution is the first memory foam core pillow with an adjustable chinstrap to support your head in all directions and provide 360° comfort - something NO OTHER PILLOW on the market does!

PROFESSIONALLY RECOMMENDED: The Cabeau pillows are orthopedic expert-approved and recommended to support any seated activity that tires the muscles supporting the head. Enjoy fully supported relaxation with our headrest pillow for neck, spine, and head support.

 
What's in the Box?

The Neck's Evolution S3 Neck Pillow
Travel Pillow Bag
Application

Neck Pain
Muscle Recovery
Travel
Sleep
Leisure
View full details
"Cabeau Evolution S3 is the Goldilocks of travel pillows".
"The only travel pillow you should ever consider buying."
"Amazing and comfortable pillow!"
"The best neck pillow with most comfort"

"You can tell when a product is designed with care"
Get in early & review the TNE S3 today!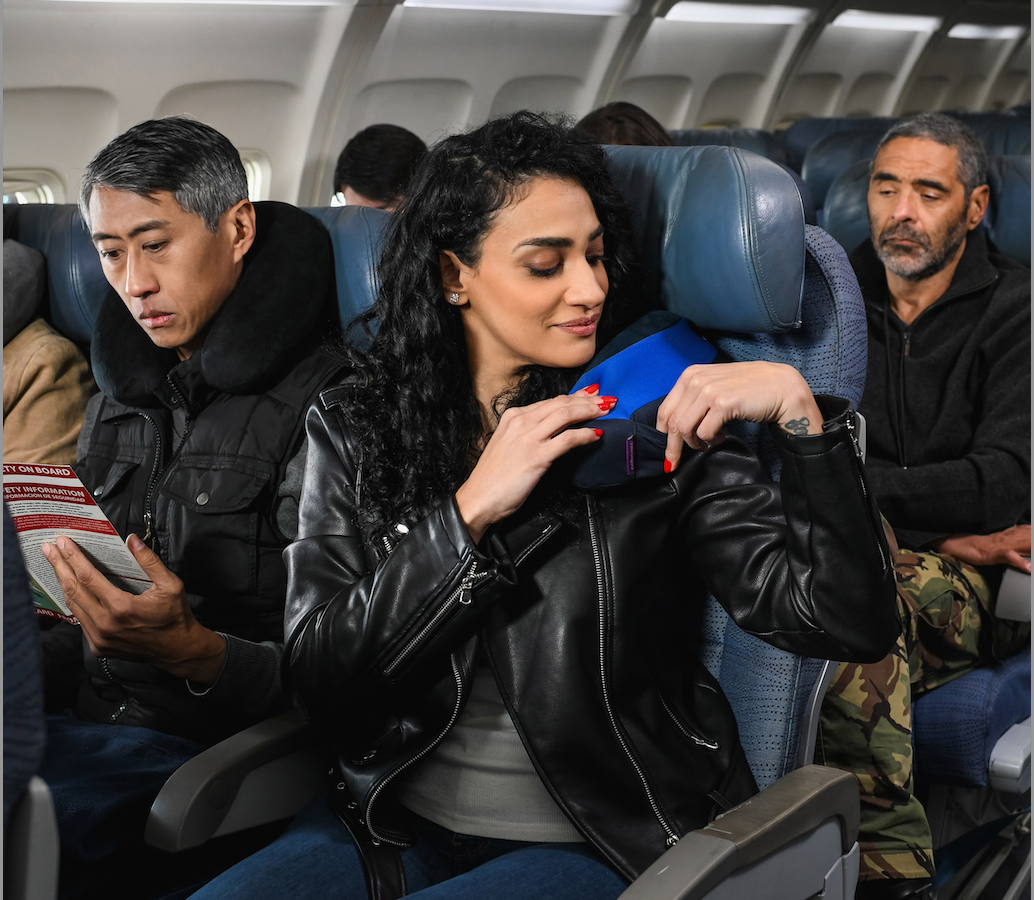 Step 1
Pull Chinstrap from Pocket
Remove the tags from the chinstrap in the pocket and unfold.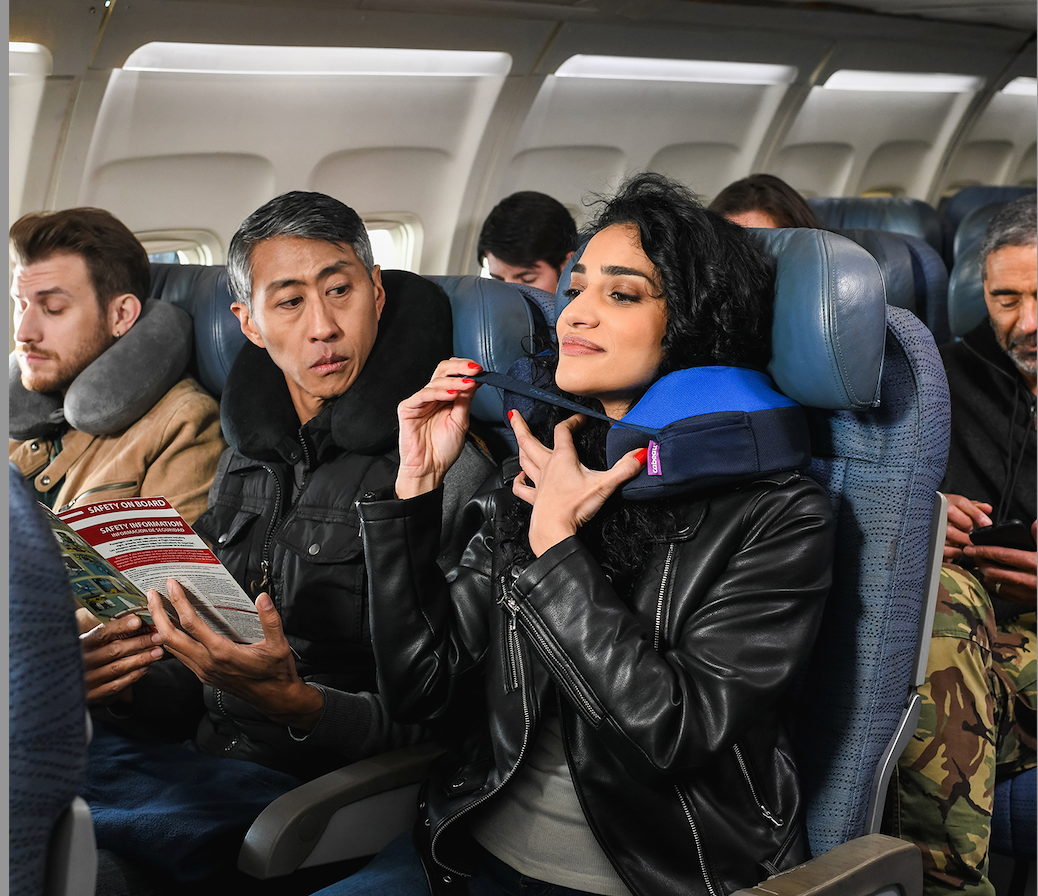 Step 2
Connect Strap to Opposite Side's "Landing Pad"
Pull the chinstrap over the top of the pillow, under the chin, and connect the strap to the opposite side's "Landing Pad."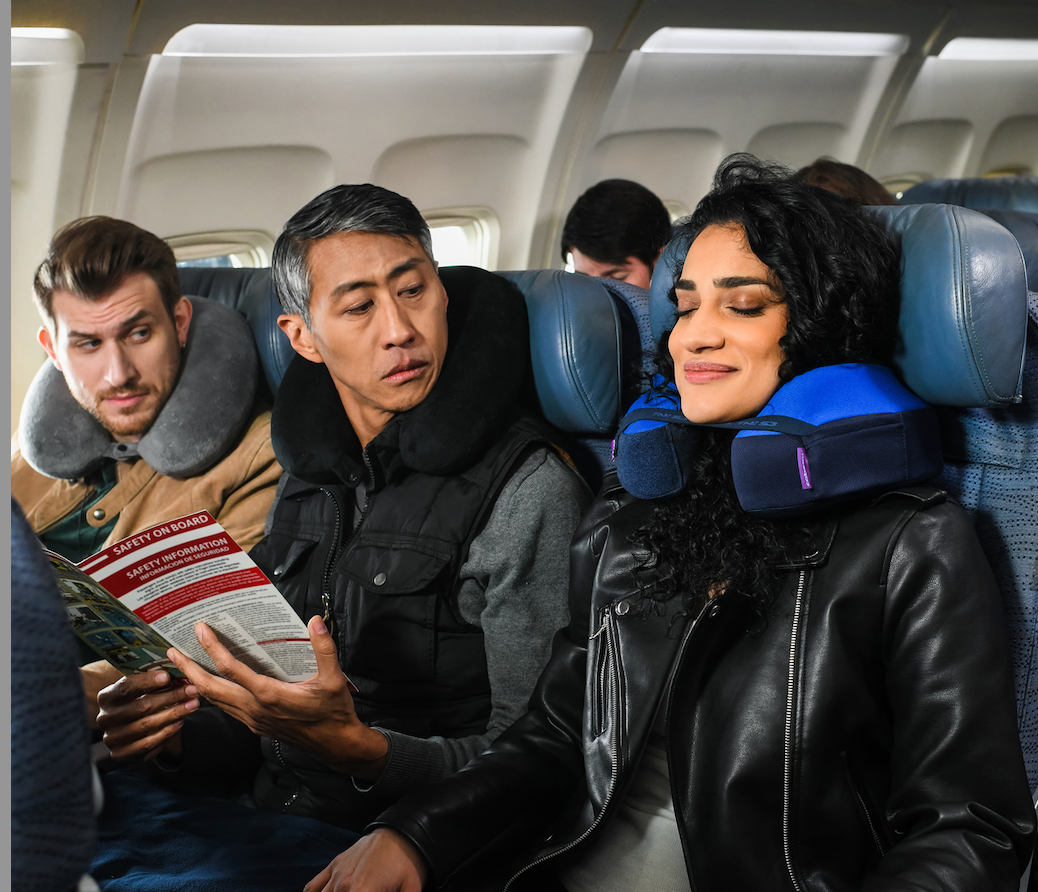 Step 3
Rest and Relax
Settle in and get comfortable with 360 degree support!

The Neck's Evolution S3 - Features and Benefits!
Find out how the TNE S3 can make you feel like you're a first class flyer!
The Cabeau TNE
This pillow achieves our most comfortable and secure fit yet, featuring our new patented chin-strap technology - creating a fully-customizable fit, preventing head drops, neck kinks, and keeping the spine in neutral alignment while wearing.
Chin Strap System
Premium support that ensures no droop, drool, or snoring.
Raised Side Support
Raised side support stop lateral "bobblehead" movement
Optimal Heat Flow
Allows for the heat to escape and constant airflow for optimal temperature regulation
Seat Strap System
Ensure a snug, secure fit to prevent head drop.
Included Travel Bag
A lightweight and portable travel bag that keeps you organized on-the-go.
Machine-Washable Cover
Eliminates bacteria, dust-mites and odors.
Reduces Size for Storage
Reduces pillow to 1/3 original size.
Warranty
1 year warranty.
Generic U-Shaped Pillow
Varies
BeCozzy
2 Weeks
TRTL
Limited
1 Side only
60 Days
Travel Blue Dreamer pillow
Limited
1 Year
Be Relax Wellness Pillow
Unavailable
Frequently Asked Questions
How do I wash The Neck's Evolution S3 Travel Pillow?
Machine wash the fabric pillow cover on cool settings and tumble dry low. Don't bleach, iron or dry clean. Don't wash the memory foam insert—simply wipe it down with a damp cloth and let air dry.
How do I attach The Neck's Evolution TNE to an airplane seat?
Unhook straps from the pillow and pull them fully out of the buckles. Then, pull straps up and around the post connecting the headrest to the seat. Attach the strap ends to each other using the hook and loop tape tabs. If there isn't a headrest with posts, simply wrap the pillow straps around the width of the seat and attach the end of the straps together in a large circle behind the seat back.
Why can't I use The Neck's Evolution S3's head straps in vehicles?
Securing a pillow of any kind to an automobile's headrest can interfere with the vehicle's safety features. Avoid clasping the pillow in front in moving vehicles.
How do I pack The Neck's Evolution S3 into the travel case?
Starting at one end, roll the pillow inward, condensing the foam as you go. Roll into a cinnamon roll shape, place it in the bag, and zip closed. Use the straps on the case to clip it to your luggage.
Can children under 13 use Evolution S3?
Evolution S3 is designed for adults, with proper support for larger heads and necks. It is too big to properly support children under 13.
How does the TNE S3's chinstrap work?
Simply pull the strap from the pocket on the right, pull over your chin area (note: higher up towards the chin for a more snug fit, lower across the pillow for a more relaxed fit) and then secure the tab to the landing pad on the opposite side and adjust for comfort.
Join Cabeau® Club and Receive 20% Off First Purchase
Future Exclusives

Lifetime Product Replacement

Double Product Warranty*
*Cabeau Club discount only applies to non-sale/non-discount items and cannot be combined.