Sale price
$59.99
Regular price
$59.99
Unit price
per
SAVE 0%
Sold out
Chill out to the max - engineered to keep you cool, dry, & first-class level comfortable.
Product Description

What's cool? NOT sweating because your neck pillow insulated like a turtleneck.

Easy-Breezy Travel: Air vents prevent sweating and overheating so you can truly chill.

Bye-bye  "bobblehead" sleep! Raised side supports prevent lateral head movements. (Bonus: 0% risk of shoulder drooling).

Check your back pain at the gate. The thin flattened pillow back aligns your spine, relaxing your back muscles and releasing all that pent-up tension.

Premium memory foam core feels like napping on a cloud —giving a whole new meaning to "air travel."

Sleep sweat? No problem. Moisture-wicking removable cover keeps your neck fresh and dry all journey long. Plus, it's machine-washable for easy cleaning.

Adjustable front clasp = the perfect fit for every traveler.

Save space for souvenirs—pillow compacts to HALF its size! The included compact case attaches to backpacks or carry-ons for easy hands-free transport.
What's in the Box?

Evolution Cool Neck Pillow
Deluxe Travel case
Application

Neck Pain
Muscle Recovery
Travel
Sleep
Leisure
View full details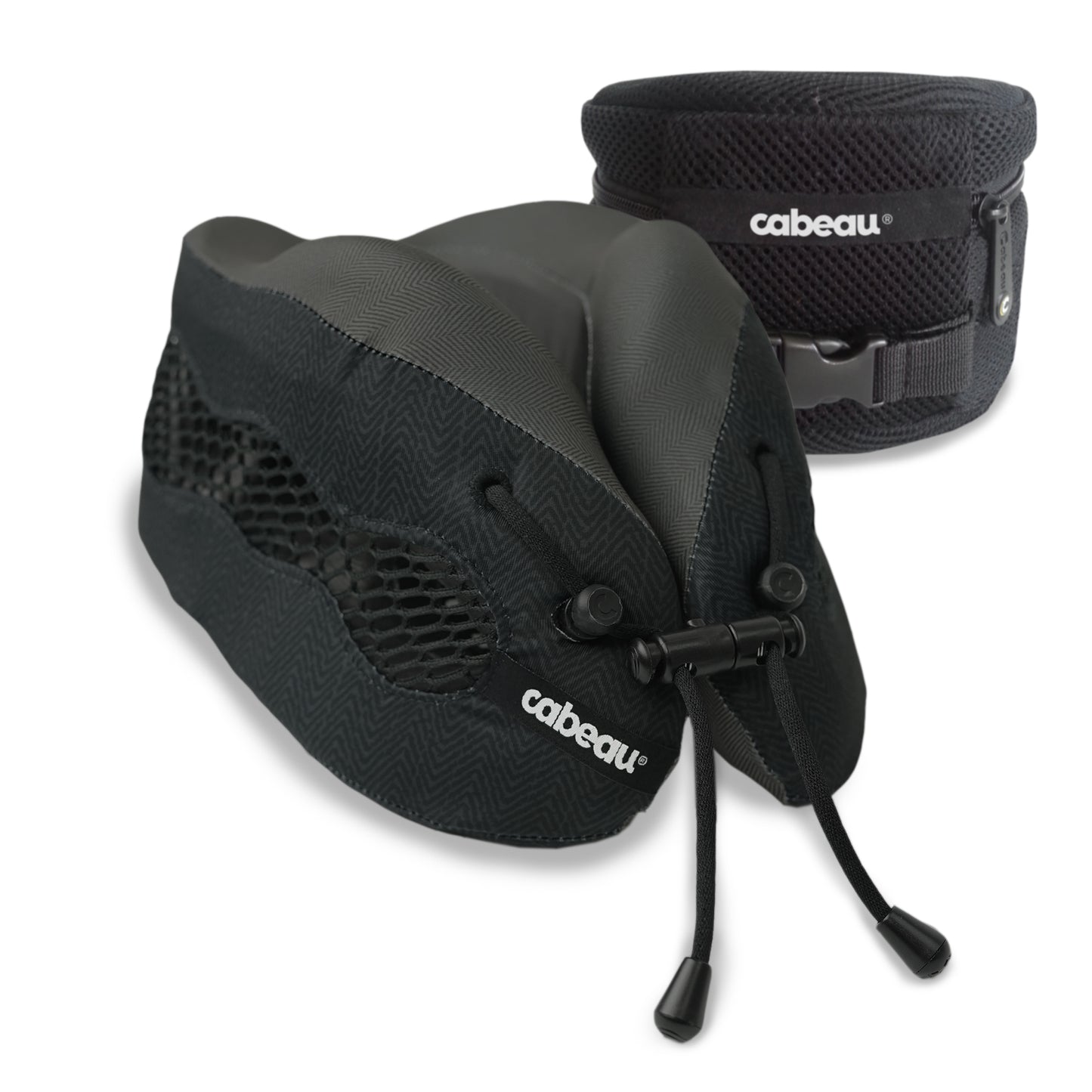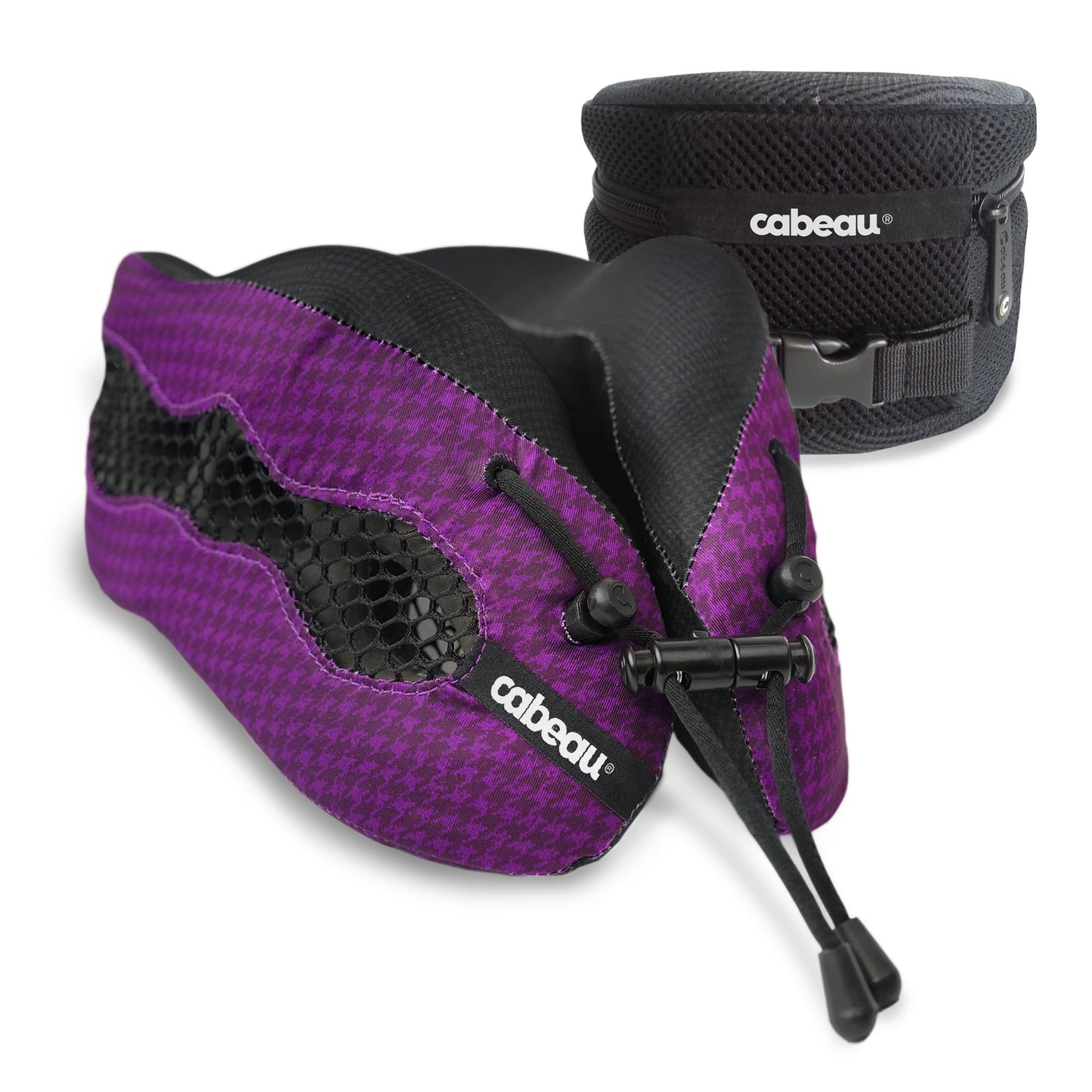 "Cabeau Evolution S3 is the Goldilocks of travel pillows".
"The only travel pillow you should ever consider buying."
"Amazing and comfortable pillow!"
"The best neck pillow with most comfort"

"You can tell when a product is designed with care"
Find our why Evolution Cool makes every use an ultra-relaxing breeze!

Engineered to keep you cool, dry, & first-class comfy
The Best Way to Keep Cool and Comfortable

Experience our Cooling Technology System: This innovative design prevents overheating as heat escapes with our side vents. The dual-density memory foam provides the perfect balance of soft comfort and firm support. Rest comfortably with our Evolution Cool pillow.
Comparing Table - Evolution Cool
Raised Side Supports
Raised Side Supports Stop lateral "bobblehead" movement.
Seat Strap System
Prevents head drop for unrestricted breathing.
Machine-Washable, Removable Cover
Eliminates bacteria, dust-mites and odors.
Adjustable Clasp
Customizable fit for most neck sizes.
Reduces to Small Travel Size
Evolution Cool® Neck Pillow
Generic U-Shaped Pillow
Travel Blue Tranquility Pillow
Limited
Go Travel Ultimate Memory Pillow
Limited
Be Relax My Memory Foam Wellness Pillow
Limited
Limited
Frequently Asked Questions
How do I use Evolution Cool's front adjustable toggles?
If your Evolution Cool has non-magnetic toggles, simultaneously push in and hold the buttons on the outside, and then slide the toggle up to tighten or down to loosen. To pull the two halves of the toggle apart, press the button in the middle of the toggle. To reconnect, press together the male and female toggle ends until they engage.

For magnetic toggles, simultaneously push in and hold the buttons on the outside, and then slide the toggle up to tighten or down to loosen. To detach the magnetic clasp, grab the ends of the drawstrings and pull out toward your shoulders. To close the magnetic clasp, bring the two halves together and let the magnet snap them together.
How do I wash Evolution Cool?
Machine wash the fabric pillow cover on cool settings and tumble dry low. Don't bleach, iron or dry clean. Don't wash the memory foam insert—simply wipe it down with a damp cloth and let air dry.
How do I remove Evolution Cool's fabric pillow?
Turn the pillow upside down and unzip the cover at the bottom seam. Then, peel the fabric cover off the foam down to the tips, where the cover is attached to the drawstrings. Unhook the toggle restraints on each side and slide out.
How do I pack Evolution Cool into the travel case?
Starting at one end, roll the pillow inward, condensing the foam as you go. Roll into a cinnamon roll shape, place it in the bag, and zip closed. Use the straps on the case to clip it to your luggage.
Can children under 13 use Evolution Cool?
Evolution Cool is designed for adults, with proper support for larger heads and necks. It is too big to properly support children under 13.
Join Cabeau® Club and Receive 20% Off First Purchase
Future Exclusives

Lifetime Product Replacement

Double Product Warranty*
*Cabeau Club discount only applies to non-sale/non-discount items and cannot be combined.